_
Trucker; Life On The Road – Part Three
This is a continuation of Trucker; Life On The Road – Part Two
A lot has happened since last I wrote. I've been on the road for almost three months now since I left Sumner, this has been a long but enjoyable tour and I'm headed home for a few days. I've driven over 30,000 miles during this time and it's been a hoot. I've met many fine people and a couple of not so fine people. Had my share of pucker up moments on the road. Learned much. Had fun.
* * *
I got some down time in Orlando, so I got to go Disney World to see the new things since last time I was there more than 10 years ago. I had called around for hotels nearby that could accommodate my truck and found one that said sure and so I made a reservation for three nights. When I got there, it was clear the entrance was not designed for trucks. I pulled up to the guard shack and the guard came out and looked at me funny. I said "I'm a guest checking in" and she laughed. "No, really" I said. When she realized I was serious, she directed me to a remote part of the parking lot and I really sweated the short journey. But, somehow, I maneuvered, slowly, and got it parked. Then I realized if the parking lot were to fill up, I'd never make it out. Oh well, I had three days to try not to worry about that.
The room was awesome and once I got settled in, I got the Trikke out and took a ride over to Downtown Disney to have a look around. Mainly, I just wanted the exercise. I arrived four miles later and all the sights just lured me in. I rode around slowly on my Trikke, sometimes walked it. I was just having a ball and just as I came around a corner, there were five Disney Police Officers on bicycles that surrounded me. No kidding; and these guys were armed. The one in charge approached me and said I couldn't ride this thing around inside the park. Not too surprising and I understood. He said that someone had called them about me. I said "so you've been hunting me down then"? "Yup" he said. They were nice enough and kept checking out the Trikke. He gave me directions back to the road that would take me back to the hotel. So, I got kicked out of Disney by the stinkin cops man.
The next day, at Epcot I did the Space pavilion, wow that's an exciting ride. At the Animal Kingdom, I did the new Expedition Everest coaster which was pretty neat. The line was long and I met a couple of brothers and their boys from Michigan. They were an odd number, plus me, made an even number, so they adopted me for the ride. We had a good time in line talking and goofing around and the 90 minute wait went fast. The brother I rode with, in his forties and by all outward appearances a good and strong man; well yeah, he screamed like a little girl. We all pal'd around for a couple more rides and then went our separate ways. It was fun.
* * *
Sometimes while driving on the freeway and changing lanes, with the sun at just the right angle, and I'm part way into the next lane already, OH CRAP, THERE's A CAR THERE, oh wait, that's just the shadow of my truck. I get startled by my own shadow. That sucks.
* * *
One night, while just south of Atlanta on the loop road, I came around a bend and was blinded from above by the landing lights of an airplane headed right for me. This was a big jet liner and it was close, I mean the nose and cockpit pretty much filled the windshield and the wings extended beyond my peripheral vision. For a brief moment, I just could not figure what this pilot was thinking and I reckoned I was a dead girl driving. Then, just before I was about to mess my pants, he pulled up and as I drove under his tail and continued my turn, I noticed the familiar blue and white runway lights of the Atlanta airport. Whew!. I wondered if that's a normal approach for planes and if it freaks out other drivers like it did me.
* * *
Swift Transport is the largest trucking company in the universe. As such, it has a bad reputation in the eyes of some seasoned drivers; owner/operators and company drivers alike. Two of the main gripes I've concluded are that Swift hires so many new and incompetent drivers and that our trucks go so slow. On count one, well … there's me … so … OK. On count two, it's true. The company trucks have speed governors installed that limit our speed to 62 MPH. That can be frustrating for us as well as other drivers out there.
I am occasionally on the receiving end of CB abuse by other drivers, mostly because of my speed. I try to ignore most of it. Once, a driver behind me said "c'mon Swift, get it out of fifth gear". I came back with "Sorry darlin', you know we top out at 62". He apologetically said "Oh I forgot about that little lady, sorry". "no worries my dear" is my typical response after they apologize and get all giddy once they realize I'm a chick driver.
In a previous report, I described crossing the Ohio River into my home state that I had missed so much. I hadn't been there for close to 15 years and I was excited. I was enjoying the familiar sights and smells and then came the big Welcome to Ohio sign. Just then over the CB came "Hey Swift, why don't you do us all a favor and park that thing on the side of the road". Well, he just pooped all over my parade, almost. I didn't respond and decided to let that one go by so I could get back to my nostalgia moment.
* * *
Driving through the Bronx and over the George Washington Bridge in NYC, my baby lost all its get up and go. I struggled to make it up those small hills and through town till I could get stopped at a roadside pull out east of town. I called in and got directed to a Volvo service center in New Haven, CT. The EGR valve on the turbo charger went bad, OK, whatever. All I know is I was stranded for two days while that got fixed. The load I was carrying was important enough that they sent another driver to take it on in to the consignee near Boston. Lost time, I hate it.
* * *
I was thinking what a wonderful day it had been, sunny, scenic, I felt good. Then I noticed something on the road ahead of me. Apparently, something really big (a truck), hit something big (a deer or other such animal), and drug it for awhile. A really long while. Was this guy not aware he was dragging it? Perhaps he wasn't even aware he hit it. For a little over a mile, I was treated to large brush strokes of dark red, as if from one of the impressionist masters streaking along just one lane of the freeway. Strewn about were small chunks of meat, organs and bone along with tufts of fur and a hoof or two. Yuk. He really did a number on that beast.
* * *
OK, this is a true story. No kidding. Driving along an interstate highway in New York, I notice a state trooper car in my peripheral vision to my left on the frontage road paralleling the freeway. He was going my direction, a little faster than I at about 65 MPH, passing me with lights and siren. There were no other cars on the frontage road so I'm not sure where he was going or what sort of mission he was on. At first glance, I didn't think much of it, nothing too unusual to make note of really. As I brought my eyes back to the road in front of me, the strangest thing popped into my head. Wait, what now? Did I just see what I think I saw? I looked left again and squinted my eyes. When that didn't reconcile the scene before me, I tried opening them as wide as I could. Still, my brain was not letting me believe it. I shook my head from side to side and made that silly noise by pursing my lips and mumbling. Still. I finally had to accept it. That trooper was going backward.
At 60+ MPH. I just couldn't figure out why. He could have gotten turned around pretty easily. As I headed on down the road, he started falling behind me and as I caught a view of him in my side mirror, he turned left on another road and his lights faded through the trees. It was like something out of Smokey and the Bandit. Over the next hour or so, I thought back on it and wondered if I had dreamed it. Could I have just been tired? Naw, I was pretty alert, it really happened. Strange though how we can question ourselves like that.
* * *
I'm fighting an odd urge to get a tattoo.
* * *
Crazy things seem to happen a lot in New York. Just driving along minding my own business, from my right comes a silver Toyota across all four lanes perpendicular to me, right in front of me, all the way to the left lane, he slams into the concrete barrier and bounces off. I thought he was a goner for sure as well as other cars ahead of me and possibly even me as I contemplated how best to maneuver when he bounces back across the lanes and surely wreaks his havoc. He did bounce off, but somehow, he got control and headed straight down the highway in the left lane. It was a miracle I tell you. As I passed him to my left, I got a good look down at the older gentleman behind the wheel and the determined look on his face and the white knuckles on the steering wheel. God was surely looking out for him that day. For us all I'm sure.
* * *
Have you ever seen a tire blowout on a truck? I never had until just recently. He was about 400 feet ahead of me. Boom! It was loud. There was a big puff of smoke and out of that ball of smoke came big chunks of rubbery shrapnel in all directions. Cars ahead of me weaved around, dodging tire bits and most were successful. Some of those chunks were big enough to cause some real damage I think. The truck kept going and slowed down gradually, just like he was supposed to do. Everyone made it through OK, all was well. It sure gets one's attention though.
* * *
So, I was driving west on I84 in Oregon and just coming over the peak of Deadman's Pass. Beautiful scenery and a gorgeous day; so peaceful. Cool name, Deadman's Pass I thought. I was thinking It seems like something ought to happen at Deadman's Pass – BOOM! It was deafening. My cab shook and I felt an impact in my chest. My heart instantly went into overdrive; I got my foot off the accelerator and started looking all around trying to asses the situation. Did I hit something? Was I shot? Was there an explosion? Did a plane crash near me? What the hell?
In my left side mirror, I saw smoke and bits of rubber flying through the air and I started to realize that I'd had a blowout. My next thought was that it was the trailer tire I had to have repaired earlier that day in Idaho. I started to calm down a bit and realize that I'm OK. I got pulled over alright and got out to have a look, exercising extra care climbing down from the cab because my whole body was still shaking from the shock of being so suddenly startled out of my bliss and having to react and stay cool through what my brain was telling me was utter and complete chaos. Fight or flight had kicked in and so I was coming down from that as well.
It was a mess. It wasn't the trailer tire at all, it was my left rear inside drive tire, some of which was still on the hub but much of it was littered on the freeway behind me and some was tangled up in the coupling area amid the electrical and air lines. I called in and they would send someone out to get me fixed up. The Swift OnRoad guy on the phone asked me if this was my first blowout and when I said "yes", he said "quite an experience huh? Hope ya didn't mess your pants". I checked real quick, and was grateful that I hadn't.
I got back in the truck and crawled to the rest area that was a mile ahead and waited there for about an hour for a guy that came out of Pendelton. He got me going again in about an hour. Hopefully, my next blowout won't be quite so traumatic.

* * *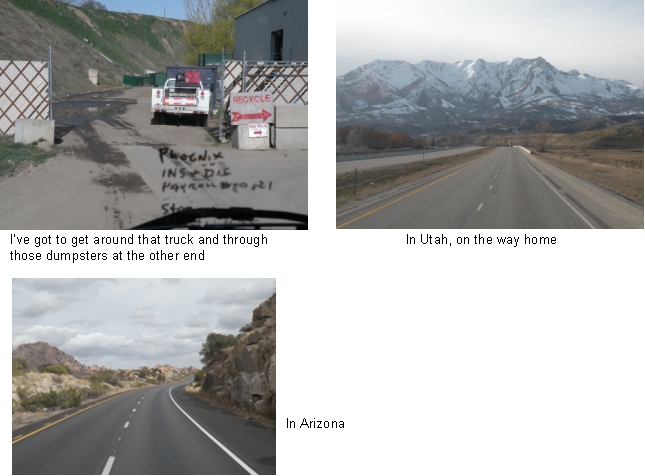 * * *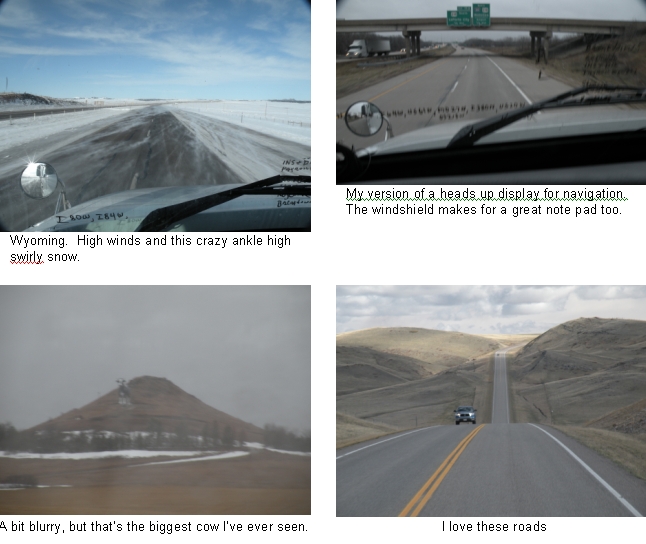 * * *