_
Trucker; Life On The Road – Part Two
This is a continuation of Trucker; Life On The Road – Part One
* * *
After spending the night in Gary, IN, I headed back to Chicago with an empty trailer to get a new load. The instructions on my qualcom said to ring shipper on approach so he'd have someone there to load me. So I did and he met me at the facility. Seemed like a nice guy and he and his guy got me loaded within 45 minutes and I was on my way. Not bad. This load was destined for Nogales, Sonora, Mexico, but I would drop it at Nogales, AZ, on the border. I headed south toward St. Louis and it was a fine drive; quite uneventful. I got a call from the shipper, and he was just checking up on me to make sure I got out of Chicago OK. I told him, I did and thanks. I thought that was odd, but OK, I guess that was OK. He apparently had my number since I called him and all. Anyway…
I hit St. Louis and missed my exit for the west bypass and wound up going through the middle of town and then getting stuck in traffic backed up because of an accident. Almost three hours, it really put me behind schedule. But, I figured I'd make it up somehow. Got stopped for the night and settled in for my break. Got another call from that shipper, he just wanted to talk. Um… OK. We talked for a few minutes about nothing in particular and I said I had to go. Had something to eat and went to bed. Got a call from Shipper… at 3:00am. What the heck? "I was asleep" I said. "Oh, I'm sorry" he said, then nothing. "OK, I'm going back to sleep, goodnight" I said. Weird.
Later that morning, I started heading west. It was a pretty good drive but I kept hearing about this crazy ice storm that was supposed to hit Oklahoma… Oh whatever… So, I was trying to do some planning while driving… If I can just reach Amarillo by morning… Oh, shipper called. I finally asked him why he keeps calling and he says he just wants to talk. I try to blow him off and be polite about it and I mentioned that every time he calls it costs me money and that these calls are a little awkward. That didn't seem to phase him.
I headed west and the weather and the roads were fine, crossed the Oklahoma state line, no problem. Then I came to Oklahoma City. It was like hitting a brick wall… uh, made of ice, I guess. Anyway, it was rough going. My truck started icing up real quick, it was getting hard to see and the road was getting slick and I watched the temperature drop about 15 degrees in as many minutes. So, I stopped at a TA truck stop, to break the ice off the truck, and wound up staying. It was just too miserable out there. There were plenty of parking spaces available when I arrived, but about 30 minutes later, there were none. Wow. So, I figured all these guys must know something, so I'm staying put. For a day and a half I stayed put. Good thing, cause Texas had closed I 40. Oh, and the shipper called again. At this point, I asked him to please stop calling me, it is inappropriate, my boyfriend doesn't appreciate it, and I don't appreciate it. He apologized and said he would stop and he wished me a good life, and I hung up. I then called my driver manager and let him know about the calls. He wanted to run it up the chain and have someone call the shipper, and I told him that he said he would stop, so let's see if he does. I just wanted to get it on record. My boss seemed genuinely pissed off about it and I had to calm him down a little. He asked me if this guy had gotten sexual or implied anything sexual or offensive. I said no, he hadn't… and that pissed me off a little, I mean, what the heck was he waiting for? Oh well.
So, I spent the next day at the TA. Got up at 4:00am and went in to take a shower. I was parked only 100 feet from the entrance, but it took me a good 15 minutes to walk the distance. The parking lot was pure ice and it was very difficult to stay upright. I just boot scooted my way very slowly. Did my thing, returned to the truck, and decided to try the restaurant for breakfast. Oh, the shipper called. I recognized the number and didn't answer. I then called my boss and said "sick'em boss". So, he's on it. Wow, this got creepy.
Anyway, I went inside for breakfast. It was a little easier walking this time because there was fresh snow, about three or four inches worth. I entered the restaurant and plopped down at the bar and ordered my favorite breakfast, a Denver omelet with a side of bacon really well done; burnt, black, and crunchy, so well done that it can't even support itself under its own weight.
Oh yeah, and a giant mega glass of milk. The waitress of course thought I was nuts, as usual. I looked around and noticed several people sitting alone in booths and at tables and most of them were talking to and laughing with, no one. It was puzzling for a few seconds till I started noticing that they all had ear pieces and headsets on and they were talking on the phone. There was a guy sitting near me and his accent caught my attention. I listened for a minute so I wouldn't inadvertently insult him by inferring he might be a Kiwi rather than an Aussie, or vice versa. I then asked where in Australia he was from and he replied Sydney. I had the pleasure of living in Sydney for a couple of years, so we reminisced about it for awhile. I got the impression I missed it more than he. He said he really likes trucking here in the States, he's been here about 15 years. Trucking in Australia he said is brutal.
We were all in the same predicament and everyone was talking with each other. We all gathered 'round the TV when the weather reports came on, we all talked about where we were headed and what problems we may be having. We all looked out for each other and shared some resources like food, parts, etc. and helped each other with mechanical problems. It was kind of neat. I watched a couple of movies in the in house theater, on the big screen high def TV. Did laundry. Just hung out.
Since I was stranded here for a while, I remembered a note on the bill of lading for my load that said it was time sensitive and since I was going to be late I became concerned. So, I searched the documents to see if I could find out what I was hauling. Turned out to be Kotex. 20,000 pounds of Kotex. Well, I guess, that could be considered time sensitive, I suppose.
The next morning, I called Texas and I 40 had been reopened, but it wasn't pretty they said. I knew there was another truck stop about two miles down the road so that would be my fall back if the roads were still too bad. I decided to set out and after three hours of breaking ice off of my truck and doing my pre-trip inspection, I started out. I had seen several trucks leaving and their trailer wheels were locked up and they didn't even know it. Guys were trying to warn them on the CB but most didn't have their radios on I guess, they just kept going.
I got on the road and it was slow going. The ride was very bumpy and slippery. There were huge ice patches still on the road that made it treacherous. I drove through what seemed like a vast wasteland of car wrecks, truck jackknifes and general gloom. It took four hours to drive one hundred miles.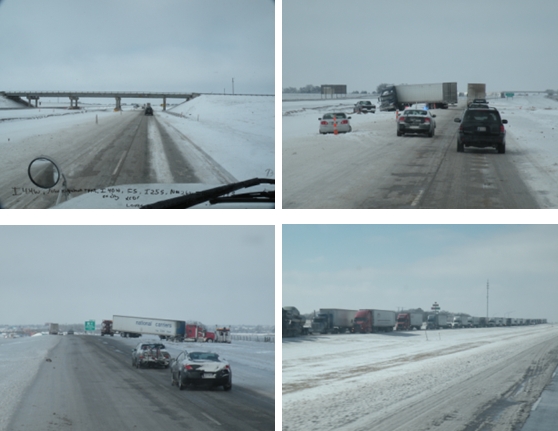 But, I made it into Texas and the road cleared up and then I was back to speed. I made it to Amarillo by morning. Hooray! Of course, that wasn't my destination or anything, rather just a silly song based milestone, so I kept going. In New Mexico, I passed something odd on the side of the road. It was one of those things that make you wonder – was that what I think it was? – I wasn't sure. I called 911, told them my name and where I was and told them I think I just saw a body on the side of the road. They said they'd send someone, but it was probably a local vagrant they get a call once a day about. Oh man.
I drove through Truth Or Consequences and through Derry Arrey. I saw a Road Runner. I'd never seen one before, wasn't even sure they really existed, but this was definitely a Road Runner, it looked just like the one in the cartoons and this little creature sped right across my path. Funny looking. Somehow I made it to the Mexican border only 24 hours late. And I only had 45 minutes left on my time, so I dropped the trailer and picked up another destined for Houston and made it to a nearby truck stop just as I ran out of hours.
After that, to El Paso, Houston, and to St. Louis where I am now. So that's my first month on the road solo, an adventure it has been indeed. I'm probably not going to write as much from here on, it's been getting quite busy. They're running me pretty hard which is great. I'll write from to time if there's something to write about. So, thanks for reading and for your emails, keep them coming. I miss you all.
I leave you with this little ditty I heard on the CB.
"I don't even get outa my truck no more here in Oklahoma City"
"Why's that driver?"
"I don't wanna get arrested again"
"Why'd they arrest ya driver?"
"Awwww, I wound up in a car with a couple a girls and weeza smoking weed an stuff. Come ta find out that car waz stolen an one a them girls had meth on'er an a pistol, man it waza nightmare"
-Silence-
"aw it started out ah-ite"
"Why'd you get in that car driver?
"awwww, the devil made me do it"
OK.
Cheers,
Maggie
Pics of the inside of my truck.