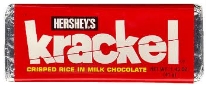 Every Halloween and certain other times of the year, I run into someone who has a bag or a candy dish of the Hershey's miniatures that include the Hershey bar, the Mr. GoodBar and Krackel bars.
If I am somehow able to gain control of that bag or dish, and I usually am; the one that disappears first is – the Krackel. It's my favorite and since I'm an average person in many ways, in fact, I'm extra average, I'm guessing it's your favorite too.
Now, if you were to visit a store selling candy and by that I mean just about any store, you could easily find a regular size Hershey bar. A bit more rare perhaps, you can even find a regular size Mr. GoodBar bar. But can you find a regular size Krackel bar? NOOOOOOOOO!
So, my question is, WHY THE HELL NOT?
I've searched the internet and have found many other requests, even demands, for the regular size Krackel candy bar. I've even found responses from Hershey to letters from consumers, basically stating that this product is not currently available as … Tell us something we don't know, geez. I'd even be happy with a bag of Hershey miniatures filled with just Krackels. C'mon guys.
So, it is that time of year again and I've bought several bags of the miniatures only to overdose on the Krackels and now I have gobs of other little candy bars I don't like. Hey, hold on a minute… You don't think that Hershey could be holding back on Krackels, you know, because they are so popular. You don't think they'd do that to boost sales of the miniatures during holidays do ya? Na, not Hershey. Say it a'int so Hershey, say it a'int so.