_
wait wait… don't tell me!

I've been a fan some time now of the political/news quiz show, wait wait… don't tell me, broadcast weekly on Chicago Public Radio and picked up by NPR. My current job has me traveling 95% of the time and I get through Chicago frequently so I've been trying to time it so I could attend a taping, but I just haven't been able to swing it.
I came to find out they would be touring this year so I checked the schedule and lo and behold, they were going to be in Seattle on June 3rd. So, I arranged some home time for the designated date, called my friend David, a fellow fan, and we got tickets to the taping at Seattle's Paramount Theater.
We arrived with ample time to get seated in the nose bleed section, three flights of stairs up. I think there were only three or four more rows of seats behind us. Oh well, I am a girl on a budget, so… The staged was adorned simply with two podiums, a table with three chairs for the panel and between them was a leather spot lighted seat for the celebrity guest, whoever that may be.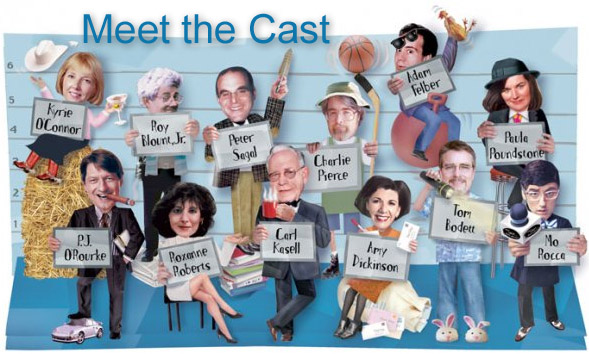 The cast was brought on stage one at a time and introduced. The panel this week included author, commentator, and radio personality Tom Bodet ("We'll leave the light on for you"), stand-up comedian Paula Poundstone and Seattle local Luke Burbank, a conservative talk show host, podcaster and sometimes host of wait wait. Luke got some cheers and what sounded like many boos; in Seattle of all places, imagine that, huh.  Some say they were saying Luuuuuuuke… I'm not sure. Everyone's favorite announcer, Karl Cassel was next and finally the host Peeeeeter Sagal took the stage. I tell ya, his face just does not fit his voice; not even close.
Peter did a monologue, told us how the taping would work and then he wanted to start the show. He looked over at the producers and sound guys , barely visible at a table in the background, and stepped away from and toward the podium as if he were a sprinter at the starting line trying to get his set position just so. He mumbled nervously "ready? OK… let's go, ready…" Queue the music and Karl did his intro and the show was off.
Several of the jokes are pre written of course, but Peter and the panel ad lib pretty well, especially with the callers and guests. Occasionally, when someone messed up a line, they just stopped and started over, not even acknowledging it, knowing it would be cleaned up in post editing, some of which, Peter told us, would be done at the end of the show.
The first call in contestant, Autumn, who wasted no time in telling us her parents were hippies, hence the name, did very well getting three of three questions right and winning the prize of Karl's voice on her answering machine. During the next couple of games, the panel engaged as usual and it was hilarious; Paula standing out as usual with her unique insights. The next call in guest did OK in his quiz game but also held his own with Peter and the panel in the wit department.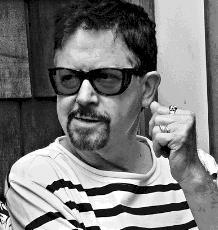 Peter then introduced the celebrity guest, novelist Tom Robins, who sauntered on stage and took the hot seat. Interesting guy. Awesome socks. Peter implied two things led to Tom becoming a writer: taking LSD and moving to Seattle. Tom didn't exactly dispute this notion. I had no idea he was 77 years old and apparently, he really likes mayonnaise. "Food of the Gods" he called it. I've never read any of his books, but now I want to try one. David recommended Even Cowgirls Get The Blues, so I'll try it. After a rather amuzing interview, it was time for his quiz game. Yeah, he didn't do so well. Got one out of three I think.
After Tom, another game or two were played and then the lighting round with the panel, then Peter rattling off the credits and then it was over. It was all pretty much like I hear it each week on the radio. Then came the weird part.
A stage hand brought out a couple sheets of paper and handed them to Peter and Karl who then started reciting disjointed bits of one sided conversations. This was the fixing of the errors I suppose. He redid some things, changed others up and added some things based on answers and other information revealed during the taping. They even asked the second call in guest if they could redo his introduction and he was OK with that. So, it was as if the caller had just called in and he and Peter met for the first time. The caller was a pretty good actor and it was completely different than the original during the taping. Hmmm, not sure how I feel about that.
After they got that taken care of, they played another game with an audience member chosen from all of us who filled out a quiz 100% correct prior to the show. She got up on stage and was told that if she gets the question correct, we all win a prize. She got it and we all got a nice tote. I have a feeling though we would have gotten the tote even if she had answered incorrectly.
Then the cast took questions from the audience and someone asked what the prize of Karl's voice on the answering machine might sound like, so they played us one from a past winner. It went something like this. "Hi, this is Karl Cassel and Kevin and June aren't here right now so leave a message. But first, I'd like to sing a tune… What's new pussy cat? Whoa whoa whoa…" Oh well, I guess you had to be there. Oh hey, I was. And it was a lot of fun.
If you've never listened to wait wait, try the Seattle show here or: