_
Swift Driving Academy, The Road Training
After my driver training at Swift Academy last October, I began my six weeks of over the road training. Following are excerpts from my emails home to family and friends. This is a continuation of Swift Driving Academy, A Student's Experience.
---
Hi All,
I just finished the two day company orientation yesterday here in Sumner, WA. It was good to see my buddy Cory from class and I was pleasantly surprised to see Steve from the class before me. I had lost track of him after he left class, so I was hoping to see him again sometime. We all had a good time and made some new friends. Orientation was led by Dawn, who is a character; mean, but not really. Constant sass, and when we finally clued in and started dishing it back, I think she appreciated it. She took good care of us.
I met my driver/mentor yesterday. Ernie is a well traveled older guy who appears to know what he's doing. We had a quick talk and I think we understand each other. I told him I want to learn everything I can and he said he'll teach as much as I want, so that suits me fine. He seems a personable fellow. I'm looking forward to it.
I arrived here at the terminal at 8:00 am as directed. I'm waiting for my driver code. As soon as I have that, I'll be ready to go. Ernie did a run last night from 11:00pm – 9:00am and so he's gonna need a nap later. He's having his rig serviced now, so we're both just waiting. The plan is to leave tonight at 11:00 with a load going to Albany, OR. He told me we'll try to do some local stuff for a couple of weeks, then western 11 states for a couple of weeks and then all 48 for a couple of weeks. Sounds great, can't wait.
The driver's lounge here is not too shabby. Several big leather couches, big screen TV, wireless, showers, laundry, and driver services. It's doable. Have met several drivers so far, all seem likable and are willing to share stories and offer advice to the rookie. I'm surprised I'm not being treated like a rookie so far, instead they all just wish me well; drivers, mechanics, office staff, and all. How 'bout that.
That's it for now, I'll keep you posted when I can.
Cheers,
Maggie
---
11/08/09
Since last I wrote, I got assigned to my mentor Ernie. He's sort of cocky, but I think he's earned it. So far, he's a pretty decent trainer.
The truck I'm in is a 2010 Volvo 660. It's pretty nice, interior wood trim and all. As sleeper cabs go, this is a small one. It's perfect for one person but a little cramped for two, but it's doable. We left at 11:00pm Thursday night and headed for Albany, OR with a reefer (refrigerated trailer) and arrived at a Costco where they unloaded us. We then headed for Salem, OR, just up the I5 and stopped at a cold storage facility and they loaded our trailer. While were there, I got the strangest feeling I'd been there before. I started looking around and then I noticed the heavy industrial bar code terminal thingys on the fork lifts and then I looked up and noticed the radios in the ceiling joists and then it came it to me. These were Intermec 2400 vehicle mount terminals and the radios in the ceiling were Intermec access points. For those of you that don't know, I used to work for Intermec for many years and I was on the design team for those terminals and wrote some of the software. Later I was a support engineer supporting those and earlier generations of products that I had been involved with. Even more strange is that in my later years, in a different capacity, I actually did a system troubleshooting gig at this very facility. I thought it was interesting.
After that, I drove the load back to Sumner to drop it and got some big city driving experience and got to drive through a rain storm. We got a load the next day, leaving at 11:00pm again, to Ellensburg, WA, then to Spokane and back to Sumner in which I got to drive from Spokane and across Snoqualmie Pass; in the rain and snow. Oh what a treat that was.
We got assigned a crappy load this morning and Ernie went hunting up the planner and did some wheeling and dealing to get us something a little better. Ernie took me next door the Costco distribution center to practice docking and I got everyone he threw at me with no pull ups.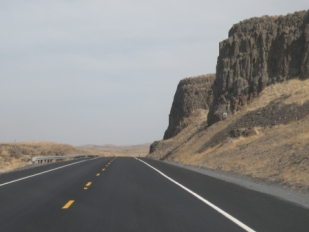 I'm writing this update from the upper bunk in the sleeper, it's about 9:30pm. We got here about 7:00pm after crossing Snoqualmie pass again as well as Puit Pass and I managed to dock it at the Costco here in Wenatchee, WA. I went for a hike for some exercise and got some groceries at the Safeway. I got settled into my bunk while Ernie started watching "In Harm's Way", a classic. He's out and snoring now. Oh well. I'll finish this update and watch a show or two on my computer and call it a night. Costco will open up at 4:00am and will unload us and then we're off to Union Gap, WA to get a load and head back to Sumner.
I'm still digging this. I don't know how to describe the appeal, but it's just so cool. This could be the funest job I've ever had. I'm learning more and more each day. It's absolutely amazing what these guys do. The laws and regulations they have to adhere to. And it's different for every state. I'm also amazed at how friendly and supportive everyone is. While hanging out in the driver's lounge, I cross paths with drivers from all over the country. Men and women. Even after they find out I'm a four day old student driver, a rookie, they're still pretty decent. I wasn't expecting that.
I'm seeing drivers of cars (four wheelers they're called) do the craziest things. I was going up a hill and an SUV passed me on the right. That's bad enough I guess, but I was in the right hand lane. He passed me on the shoulder. Unbelievable.
Cheers for now,
Maggie
---
11/13/09
Having driven for a few hours already, all night actually, I found myself in eastern Washington, in the desert, in the dark, in the recently unobscured moonlight. I'm now able to make out the shape of the terrain, but not the detailed features. Having a hard time staying awake and the only thing keeping me going is the knowledge that the sun will soon be coming up soon. Off in the distance to my left I notice a faint pale bluish blob surrounded by black. Pale begins to brighten and I notice just a few wispy clouds contrasting against the increasingly bright background. As the blob grows I notice a few more solid clouds and wonder if they will take part in a spectacular sunrise and wake Maggie up.
And wake they did indeed. As the light from the rising sun lit the under bellies of the clouds, oh what a spectacle it was. Oranges and reds and yellows, just what I needed. As I perked up, I started noticing the texture and details of the desert and marveled; even though I had been through this part of the state before, I had never seen it in this light, so to speak. Morning, my favorite part of the day. Watching the place come alive around me. Oh, I guess I should be watching the road, huh.
That was a few days ago, I don't know which, they're all running together now. Still having a great time and learning lots. We made some more local runs and I got booted off the truck on Tuesday so that Ernie could drive home to see the wife and get his stress test done by his doctor and also to get his DOT physical done. I got a couple nights at the hotel and that was just fine with me. The rooms have great bathtubs with just the right angle to lean back and I have one of those little cover thingys with the little suction cups that you fit over the overflow drain so you can bring the water level higher in the tub and it doesn't leak out. I filled it with the hottest water I could stand and got in and soaked. Apparently, I fell asleep, for about an hour. So cool.
On Wednesday, I got to join another driver for part of a day, so I could get paid you see. His name is Dragos and he, his accent and good looks are from Romania. A real sweet guy, I enjoyed his company. Part of a day = from 04:30 – 09:00. Then I started my 34 hour reset (long story). I spent it sleeping, doing paperwork and studying. I popped into the driver lounge at the terminal a couple of times and who do I see but Steve from the Lewiston class (before me) and from my orientation. He had just gotten his mentor and was heading out. We had a nice chat, he seemed excited; I hope he has a great time.
I hooked up with Ernie who returned about noon on Thursday, everything checked OK I reckon. And so now we go Over The Road (OTR). Our first run… An all nighter to Salt Lake City. An impossible run in the time they gave us but we did our best. We left at 17:00 after picking up our load and Ernie drove over the passes and into Oregon, until his hours ran out. Then I got in the driver's seat and drove the last 500 miles right to the Salt Lake City terminal. That was a tough drive, it just wiped me out. We dumped the load, parked the rig and hopped in our bunks for some shut eye. About four hours later, we got a pre-plan for a load going to Dyersburg, TN, so we accepted it. That's so weird. Someone says, hey, ya wanna go to Tennessee? And we said sure. We pick up the load at 0700 tomorrow, we're making the most of our down time right now.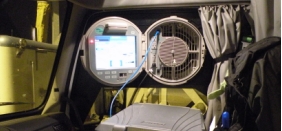 We found a decent truck stop nearby that has Idle Aire. These are neat bays we pull the truck into and there's a fitting for the passenger side window. There's a big flexible bendy hose sort of thing that attaches to the window. Once the fitting is attached, we open it inside the cab, kind of like a kitchen cupboard, and we have heat/AC, wired internet connection, four AC outlets, TV feed, movies on demand, phone connection, etc. It's pretty neat. This way we don't have to idle our engine all night to stay warm and we get all sorts of extra goodies.
Ernie is in the bunk below me watching Lord of the Rings on the TV and doing stuff on his computer. I didn't even know he had a computer and I certainly didn't figure him for a Lord of the Rings kind of guy. What a surprise. I'm in the top bunk, which I really like, it's so cozy. Catching up on emails, paying bills, etc. I'm gonna watch a movie or two shortly and then try to get a good night sleep.
Cheers everyone.
Maggie
---
A few days ago:
We popped by the SLC Swift terminal this morning to fuel up and while there, I heard my name being called from the distance. I didn't recognize him as he approached, but once he got closer I started to recognize his gait and his voice. It was Mark from the Lewiston class. Apparently, he went through orientation in Phoenix and has been sitting here for a week waiting for his mentor. Oh well.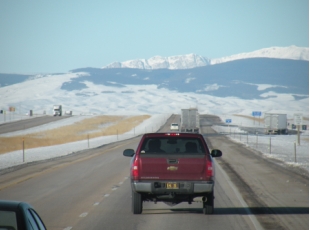 After picking up our load this morning at 0700 at the customer site, we headed east on I80 and into Wyoming. We got some snow off and on along the way. Ernie drove first so I have to be in the sleeper berth technically. If I sit in the front seat, that puts me on duty and my available hours start wasting away. Although the mattress is one of the most comfortable I've ever slept on, it's hard to sleep. A drive in a truck can be quite bumpy indeed. There's a cargo net that I'm supposed to use to keep me strapped in, but hardly anyone ever uses it; too uncomfortable. So, I watch movies and TV shows on my computer, write, read, twiddle my thumbs, and try to catch a snooze when I can. Occasionally I'll hop in the front seat for something different, but Ernie won't let me stay long because we don't want my available hours window to start unless I'm actually going to be driving. My shift will start in a couple of hours, so…

While in the front seat, I did see two tractor trailers over turned off the road. Not a pretty sight. It's a reminder of how dangerous this job can be I reckon. I keep thinking about the flying I used to do. In a plane, if something goes wrong, you have to react right away of course, but you typically have some time to reason things out, try different solutions, and look for a landing spot before the grounds rushes up to smite thee. In the truck, you gotta react now cause the whole thing can be over before you've had a chance to process what's happening. Anyway, magnificent desolation. Occasional oil rig, state prison, truck stop. Classic country music playing on the stereo. Bumpy ride. Bad jokes. I'm digging it.
Next day:
As we headed toward TN, we realized that the delivery time at the customer site was Tuesday at 0600. No later, no sooner. So, based on our ETA, we would have to sit there for 36 hours or so till we could deliver. So, Ernie sent a message off to dispatch to see if we could T-Call (drop the trailer at a Swift Terminal) in Edwardsville, Kansas and then we could get another load and they said OK. While at the terminal, we filed our paperwork and got showers and spent the night. A dispatch for an emergency run came in. Apparently, another driver had put his rig into a ditch and we were to go to Kingman, KS right away to pick up the trailer and take it to Chicago. We headed out and got to Kingman a couple of hours later to a small drop yard where we found the trailer, delivered by another local driver, presumably after it had been pulled from the ditch. The only problem was, his tractor was still attached and there was no driver. So we waited a bit and nothing. We called in and they said they'd try to track him down. Nothing. While waiting, we both stared at a dog in the distance that just would not stop barking. He was barking at a balloon, I guess to motivate to do something. A small gust of wind would come along and move it and then the dog went nuts jumping around and trying to corner it. Then the wind died and the balloon was still, he just stood there frozen in place barking, his heaving chest being the only other movement. After a while, we started praying for wind.
A couple of hours had passed and we got out and started looking around. It was drizzly and as I walked around in the mud I wondered what this old beat up trailer was there for, so I started checking it out. There was a pad lock latch on the door, but no pad lock. I knocked and no one answered. Something came over me and I just went in and started looking around. It was a two room trailer, with a desk, a couch and some junk. I saw a little ash tray thingy hanging on the wall and I looked in and saw some keys. Oh boy. I grabbed them and started trying them on the other truck and lo and behold one worked. I started it up and we detached from the trailer, attached our truck and off we went. We were half way to Kingman when we got a message over the qualcom to look for a shed of some sort that might have a key. We never did hear any status on the condition of the tractor or the driver that went into the ditch.
We headed up to the Chicago area and dropped the load and then off to another location a few miles away to pick up another that was destined for Salt Lake City. We made the run without incident and the drive was pretty. We got another load and headed to Great Falls, Montana to deliver it. I had the pleasure of driving the night shift through the mountains and across the continental divide, twice, on ice. Coming down those mountains was … well, one of those pucker moments. But I did it and it feels good to get that under my belt. It's a matter of developing confidence I guess.
During the drive, while still in Idaho, I saw something odd. You know how the sky lights up all around you when there's lighting in the distance? Well, the sky lit up, almost bright as day. The odd part is that, it was a clear night and it didn't flicker like lighting. It lit up, and stayed lit without varying, for almost 10 seconds and then it went dark. All sorts of things went through my head. I found out the next day it was most likely the large meteor that streaked though the northern Utah sky. Whew.
So, I drove through the night for 10 hours and we arrived at the first of two drops for this load. I find out that this was a "driver unload". We spent about three hours unloading half of this trailer, manually. Ernie and I broke down the pallets inside the trailer and physically moved each box, all of varying sizes and weights, to a roller system we rigged up at the rear of the trailer that let us roll the boxes right into the back door of the store. Then we drove to the second store and did the same there for four hours. At first it was kind of fun, the physical labor and all, it felt good. But, it got old real fast. My injury report includes many bruises, an open gouge/wound in my belly (no idea how I got that), a tweaked shoulder, and I broke the fall of box with my face that dang near knocked me out. I stumbled around for a few seconds and Ernie came running over and asked me if I was OK. I looked at him said "you tell me". I've got a couple of cuts between my eyes at brow level and my glasses got a little bent. But, I seem to be OK. We headed out to a Pilot truck stop nearby to spend the night and try to heal up. I've been enjoying this job for the most part, but I did not like the unloading part. No-sir-ee, not one bit. I asked Ernie how often we have to do that and he said about once every two years. Another big whew.
As we pulled in to the Pilot lot, I noticed a hotel across the street and started thinking. Hmmmm. "Hey Ernie, how'd you like to have the cab to yourself tonight?" "I don't care" he said. You see, hotels have bath tubs, and that's what I wanted, that's what I needed. A nice long hot tub soak. So, I packed an overnight bag and hiked over to the hotel and checked in. I ordered a pizza and ran the tub full of water. Not sure if I've mentioned it, but I got one those plastic cover thingys with suction cups that fits over the overflow drain which allows me to run the water higher up. I took some ibuprofen and Tylenol and hopped in. I think I fell asleep in there for a bit, it felt so good. When I got out, I got a bonus. The bed. It was oh so comfy. It had some special mattress that you just sink into, and the pillows were awesome. The only drawback to this was that I had to get up at 0430. Oh well.
Cheers,
Maggie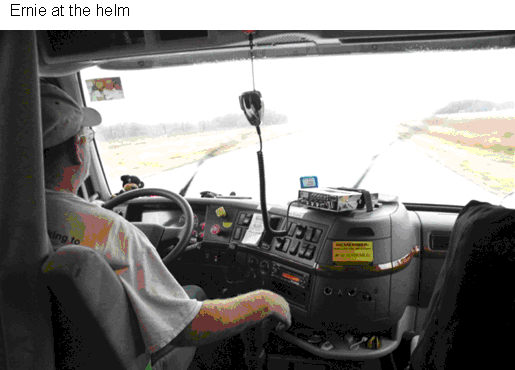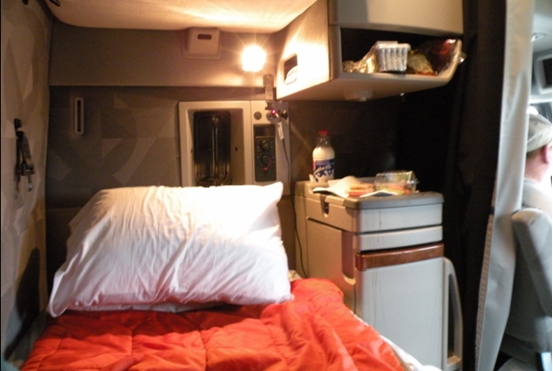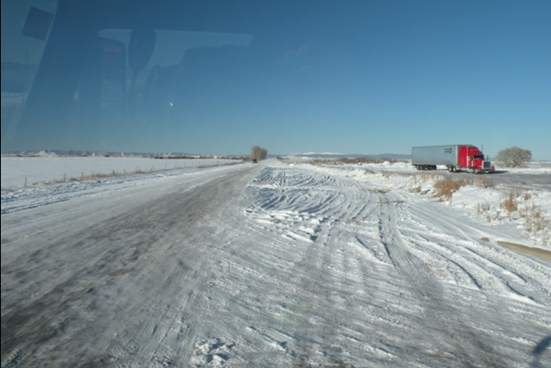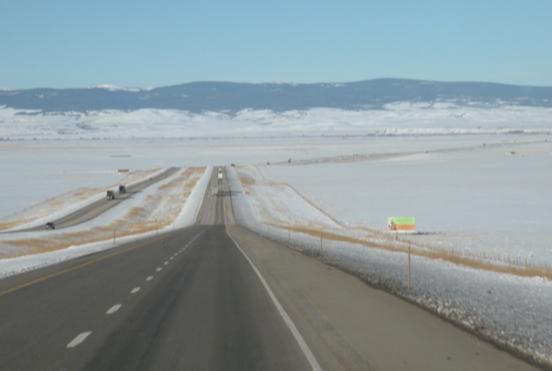 ---
I have a new mentor/trainer. Ernie's granddaughter, who has cancer, has taken a turn for the worse and so he needs to be near home. So, in an effort to look out for me and advance my training he helped find me a new mentor. Yvonne, based out of Nevada, who happened to be in Sumner, is now my mentor. She's a short, silver haired, needle point'n grandma and is an owner/operator, which is neat so I'll get a look at what that life is like. Her truck is an International Prostar and I really like it. This truck is more roomy and isn't quite so – car-ish – as the Volvo. I like it.
After getting moved in and acquainted with her and her truck, we headed out for Spokane and Cour 'dAlene, ID and then south to Lewiston, ID, to Salt Lake City, to Sparks, NV, to SLC again, and we're now at the Gold Run Rest Area in CA, west of Lake Tahoe, NV. I did the drive from SLC today and Yvonne will take over at 2:00am to get us to the Bay Area for three Costco deliveries. Then, we already have a pickup nearby that will be going to Illinois and we have to get it there by Friday morning. Wow.
So, the all night drive I did from Lewiston to Salt Lake City was interesting. Winding twisty mountains, up and down and around and I had to dodge some deer and coyotes. I was pretty beat after that. After a short stay in SLC, we headed right out to Sparks and I made the drive to Winemucca, NV and Yvonne took over. The Sparks Swift terminal is small but quite functional. We made the delivery and turned right around and headed back to SLC. While in the driver's lounge, I spotted Brent from my class who was passing through. Last I heard, he was still waiting for a mentor. He has apparently found one and has been on the road for two weeks. I've been wondering whatever happened to him, he's a real sweetheart. We also hooked up with Anne, Yvonne's classmate from way back when. Anne is also a mentor and her student is Sigred from the class before me. I've mentioned her in a couple of previous posts. So, we decided to walk to a Quiznos for and early supper and then perhaps a movie.
Well, the "walk", turned in to a several mile hike, only to arrive at the Quiznos, at closing time. Whoever heard of a Quiznos closing at 4:00? Well, Yvonne, decided to get us a cab and we went looking for a new place to eat, finally settling on a Chilli's next to the mall and movie theaters. Yvonne, didn't look so good after dinner and she had been coughing quite a bit, we decided to get her to an urgent care facility and have her checked out. She came out OK and got a couple of scrips, but the night was shot, so we headed back to the terminal and it the sack.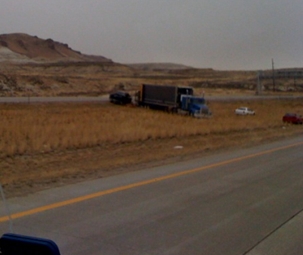 The drive today was awesome. I left SLC at dawn and headed west, racing the sun. It came up behind me and made for another spectacular scenic drive, lighting up the Utah mountains, lightly dusted with snow and the slat flats. The morning gave way to the Nevada sun as my companion to my left, just at the right angle to be a constant nuisance to my eyes. But, the scenery was awesome. Barren mountains, hot springs and casinos all over. Then into CA and over the famed Donner Pass to this little rest area that Yvonne knew about, nestled in the wooded mountains of the Tahoe National Forest. It's probably the most beautiful rest area I've ever seen and the temp is quote pleasant.
Update: We delivered the three Costco loads and got a new dispatch to pick up and take to Illinois. We went to pick up the load and the shipper canceled the load, dang. We headed to Lathrop, CA to a Swift terminal and we got a new a load to Georgia, so we'll be heading out shortly for the east coast. Neat.
I miss you all.
Cheers,
Maggie
---
Bay Area California to Atlanta, Georgia in two days. Made it to the consignee with 22 minutes to spare. Man, that was close. No atta girl, no celebration, no southern hospitality or welcome… Anticlimactic. All I got was another load. I suppose I ought to get used to that.
Lots of fog in California. New Mexico along I40, east of Albuquerque was completely covered in snow and ice which made for quite the adventure. Once, when turning on to the on ramp to the freeway after fueling, I lost traction and the whole rig slid for a bit. I stopped just short of going over an embankment. Whew. Saw a three rig pile up in the west bound lanes; I doubt anyone made it out alive from what I saw. We heard there was a major ice storm that hit El Paso, Texas and I 20 was completely closed.
I drove through a blizzard from Birmingham, AL east almost to the Georgia state line. Weird weather. Heading out of Atlanta today, we saw an overturned tanker, what a mess. There were about 20 emergency vehicles including HazMat cleanup vehicles. On the way to Houston now with a new load, Yvonne is driving. Where to next I wonder.
Cheers for now.
Maggie
---
12/9/09
I have a new mentor. Again. So, I spent last night at a nice hotel here in Houston and my new mentor, Ali, picked me up a little while ago and we're spending the night at a Flying J truck stop. We just had dinner and he's watching a movie. This is good because he has a different truck altogether so I'm getting experience in a variety of trucks. This one is a Kenworth T2000; can't wait to drive it. He's also an owner/operator.
---
12/12/09
Well we got a load to Dallas and left it at the Swift Terminal there and had a day off. We hung out in the driver's lounge, watched a couple of movies, ordered some Chinese food and relaxed. After showers this morning, we drove about 20 miles away to pick up an empty trailer and then we drove to the shipper, dropped the empty and picked up a loaded trailer and set out for Colorado. I drove most of the day and Ali just took over, so I'm relaxing in the sleeper. By the way, we're still in Texas. "Don't mess with Texas". I always say that when someone mentions Texas, I have no idea why bit I do. I passed a few road signs today that said "Don't mess with Texas – $10,000 fine" Well how about that? I presume they are referring to littering. After writing this update, I'll read or watch a movie or perhaps even, I'll sleep. I started reading Angels & Demons last week, finally. I've had this book for about six years. I want to get through it before I watch the movie.
So, Ali seems a pretty good mentor so far. He keeps his truck nice and clean and he is a perfect gentleman. There are some things I like about this truck and some things I don't, but that's been the case with each one that I've driven. If I could just merge them somehow. Ali talked me through a 90 degree back yesterday morning and I've done a couple others since. That's so cool. He's also teaching me how to float the gears which is shifting without the clutch. Yeah, he's a good guy. He says his wife is his life. They have a three year old boy and Ali is nuts about him of course. While I was driving today, he called his wife and they talked for a while. Of course I couldn't understand a word of it as they spoke in their native language. But it was unmistakable when he started talking to his boy because adult baby talk in Farsi sounds pretty much like it does in English.
---
Dallas to Denver and then to Laramie, WY to pick up a trailer at a truck stop that another driver left when he broke his truck. My bobtail (truck without a trailer) drive west on I80 in WY was wild. The wind was amazingly strong and it pushed the truck to my right, I had to constantly steer into the wind and we were at a constant list of almost 30 degrees. I couldn't help but wonder what it would be like if I was pulling a trailer. I saw some other trucks with trailers that were getting knocked all over the place and they couldn't stay in their lanes. It seems it would be pretty easy for a strong gust to just tip one of these trailers right over. Heckuva storm though; big dark foreboding clouds, sideways snow, and little swirls of snow dust on the road with patches of ice.
Made it to Laramie OK and found the trailer sitting all by its lonesome. Hooking it was troublesome. Each time I tried to back into it, I slid all around on the ice and I'd have to pull forward and try again. I eventually got lined up and hooked it. When I tried to pull forward though, I discovered that the trailer brakes had frozen. It took a while to get that resolved, but we did and off we went. Back over the mountain, heading east, from where we had just come. Oh joy. Well, as it turned out, the storm I went through had passed and it was a fabulous day and we made our way toward Missouri.
I ran out of hours and Ali took over. Once into eastern WY and Nebraska, it turned really bad. Ice storm. Ali had to stop every 20 – 30 minutes to break the ice from the windshield wipers and the mirrors. It was a long night. We made it to the consignee though, just in time, in Belle, MO, a Kingsford Charcoal plant and waited our turn to be unloaded. After we were free to go, we stopped at a little country restaurant (dive) for breakfast. The food was OK. Then my shift started. Ali taught me how to float the gears which is shifting without using the clutch, so I've been practicing that.
We wound up doing a really big circle in the middle of the country. We got a load and headed off to Denver of all places and dropped the load at the terminal and got another and headed off for Ogden, UT via Cheyenne and Laramie, WY again. Ali drove the night shift, I got up a couple of times to sit up front and I was amazed at the stars, so plentiful and visible right down to the horizon.
We made it to the consignee this morning and dropped the trailer. Only problem is we don't have an empty trailer now. We can't go to the next shipper without an empty trailer to leave in the place of the one we will pick up. So, we were on the phone with dispatch for hours trying to locate an empty and we went to two locations they said would have them, but they didn't. So, we went looking on our own and I recognized a location, Associated Foods, that I had been to a couple of weeks ago and I drove in there hoping to find one and they had only one Swift trailer in the whole facility and it just happened to be empty, so we snagged it and drove, literally, next door to the shipper to get the next load. Crazy.
So, tonight, we just had showers, I did my laundry, and we had a nice dinner at a real sit down restaurant and we're parked for the night a Flying J truck stop and we're gonna both get a good night's sleep before heading out in the morning to… Washington. The Olympic peninsula actually, we have three stops there. My six weeks are up on the 20th and this delivery is on the 17th, so we'll stay in the area doing shorter runs. It's almost over.
Cheers,
Maggie
---
The drive to Washington and home was a fairly nice and pleasant drive. I did my shift first then Ali drove, getting us to all three stops over on the Olympic Peninsula just before his hours ran out. After we were unloaded, I took over and headed east again. Our home visit was quite short. I picked up a load and headed over the mountains to unload in Ontario, OR and Twin Falls, ID. We then deadheaded to Salt Lake City where we could get a load that would bring us back to Washington by Sunday.
While at the Salt Lake Terminal, we were waiting for the showers; there was a bit of a line and apparently there wasn't much hot water either. I told Ali, there was a Sapp Brothers truck stop a few blocks away with really nice showers and he nodded, so off we went. We had to fuel, so this was as good a place as any and of course with the fuel, we got free showers. I told Ali, that some of the shower rooms had tubs and I was getting one, so he asked for one too. I had been at this stop a few weeks ago with Ernie and had a shower here and it was awesome, much nicer than any bathroom I've ever had in my apartments or house. I was looking forward to the tub this time though. Oh man, it was fantastic. Same great rooms, with plants and everything. The tub was huge. I could completely stretch out in it and was so deep too. I ran that water all the way up and used my little overflow drain cover thingy and soaked in that hot water for almost an hour, then drained half and ran it back full with cold and soaked some more to cool down. What a treat. I got back to the truck and I figured Ali would be upset that I took so long. Turned out that he only beat me back to the truck by 10 minutes. He was beside himself and thanked me for turning him on to the Sapp Brothers showers. He had never even heard of Sapp Brothers. So, that was neat.
I had another great full day of driving west again, it was a pretty day. I wanted to mention something. Going up big bridges is a little scary. As I'm going up I'm looking at the side guard rails and noticing how small they are. I mean they're really quite tiny. They're OK for a car I suppose, but I'm sitting way up high in this big truck and realize that were I to stray a little too far to the right, I'd hit that rail, which maybe comes up to the top of my tires, and just tip right over the edge. It just doesn't seem like much of a barrier to stop a truck. Anyway… The drive went well and Ali and I are realizing that our time together is coming to an end. We just goofed around with each other and a couple of times it got a little mushy.
He told me that I was his first female student and that I was also his best student. I just said peshaw and shrugged it off and he realized that I thought he was just joshing me. He showed me the evaluation he wrote on me and wasn't kidding. Wow, I was stunned. I'm trying to not let my head get too big; perhaps just a teensy bit. I told him he was an awesome mentor/trainer and he knew I meant it. He also gave me a CB radio. Geez. He'd had it for awhile under the bunk, it was one he had before and he said that the only thing that was wrong with it is that one light was out and I could fix that easily. It's not just a basic CB either, it's pretty loaded. I sure wasn't expecting that.
We got back to the Sumner terminal about 3:30am Sunday, did all our remaining paperwork and got about four hours sleep. I got up and packed my things and started getting some of it to my car. Ali and I met with Greg (Chief), my new driver manager and we talked a bit. I'd go to the hotel for the day and night and then do my testing on Monday. Ali met his new student, Christine and we then said our goodbyes. It was sad. I feel that I have a new good friend.
Monday – 12/21
As directed, I showed up at the terminal at 0430 to hook up with a local driver for close quarters training. A familiar face named Dragos showed up and off we went. I had spent a day with Dragos about four weeks ago and we got along fine. Neat guy. We headed to downtown Seattle in his Freightliner day cab to deliver a load at a place he hated. The receiving docks are so tight; he even said he has a hard time with it. And he did this time as well. He wasn't kidding though, it was tight. And to make it worse, the employees park their cars right along the fence, which is space we need to maneuver. Oh well. Then he put me in the driver seat and I was to drive back, through Seattle, which I did OK I reckon. We dropped the empty trailer at the Costco distribution center and he had me back it in the slot. It was then I realized that my driving test had been in progress for some time and wasn't over yet. These things always seem to sneak up on me it seems. We went back to the Sumner terminal and picked up another empty and dropped it at the Costco DC and I drove around in downtown Sumner a bit too. And then, it was over. He said "don't get too excited, you still have a lot to learn, but you drive better than most men I've tested". I was gushing. So, it was a good morning so far. Once, we got that paperwork turned in, I was handed the written exam. Did it, turned it in, got it graded, 98%. I only missed one. I thought it was trick question, turned out not to be. So, it's a great morning so far. Then, I signed one last paper and it was official. I'm now released as a solo company driver. Yeee hawwww.
I'm going home for a week and then I'm back here on the 28th to get my truck, at which time, the adventure continues.
I'll talk to y'all then. Merry Christmas, Happy New Year.
Cheers,
Maggie