_
Steve Martin & The Steep Canyon Rangers release Rare Bird Alert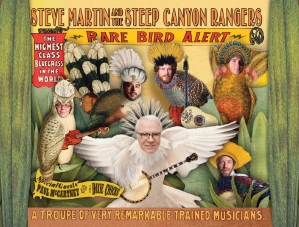 Debuting at #1 on Billboard's Bluegrass Chart and #43 on the Billboard Top 200, Actor/Author/Funny Man Steve Martin, in collaboration with the North Carolina based Steep Canyon Rangers, does it again with their new album Rare Bird Alert. Steve and his 40+ years of banjo mastery grace this collection of bluegrass songs which tops his 2009 album The Crow – New Songs for the Five String Banjo.
Written by S. Martin, these instrumentals and songs with lyrics are lovely tunes that will get both feet tapping and would certainly raise the spirits of even the slightly depressed. As he did on his last album he features other artists as well including Sir Paul McCartney and The Dixie Chicks.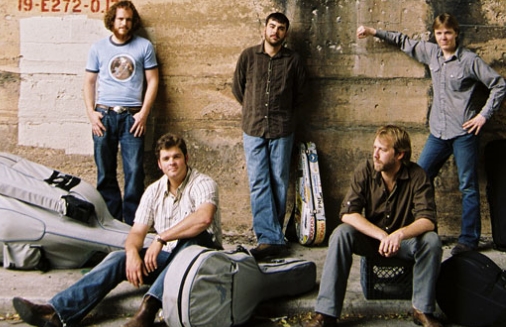 The primary featured artists on this album though are The Steep Canyon Rangers, a well established bluegrass band in their own right. Having played in and won major bluegrass festivals, appearing on Garrison Keillor's Prairie Home Companion, Austin City Limits and Late Night with David Letterman and producing four other albums since 2002, The Steeps as they're called back home, bring precision vocal harmonies and truly artful acoustic instrumentals to the game. Steve is quick to credit the Rangers with inspiration, encouragement and fine tuning on the development of this album.
Steve's first bluegrass album The Crow, which won a Grammy by the way, introduced me to Tim O'Brien, now one of my favorite artists; I now look forward to getting to know Mike Guggino, Charles Humphry III, Woody Platt, Nicky Sanders, and Graham Sharp of the Rangers.
If I like an album, there's usually two to four songs that I don't like, but I like every song on this one. Most instrumentals are upbeat, a couple are melancholy, but they all just feel good. I often catch myself playing air banjo as I drive down the road. The songs with lyrics are interesting and enchanting and fun. My favorite is Yellow Backed Fly, a fanciful fishing yarn with a talking fish. Jubilation Day is a great tune that I hummed to and fake sang with till I learned the words; turned out to be a break up song, but it was a really good break up. Then there's the love song You sung beautifully by the Dixie Chicks; the old nice first three albums Dixie Chicks that I liked, not the bitter and angry post George Bush comment Natalie Maines that I quit listening to.
Paul McCartney does a classic Paul McCartney job on a charming song called Best Love. Go Away Stop Turn Around Come Back; the title pretty much says it all. There's a gorgeous song with lots of harmony called More Bad Weather on the Way that has only those six words and there's the harmonious and fun Atheists Don't Have No Songs, a gospel like song for the other guys, so, now they do I guess. The end of the album even has a bluegrassified version of Steve's 70's hit King Tut.
Check Steve Martin's or the Steep Canyon Rangers' web sites for tour dates and ticket availability.  I'm gonna.
Well done guys, well done.
---
Steve tells David Letterman how he got Paul McCartney to sing on his album:
---
Steve and The Steep Mountain Rangers sing Atheists Don't Have No Songs:
---
Steve and The Steep Canyon Rangers playing Jubilation Day on Live in the Greene Space:
---
The Steep Canyon Rangers Video Biography: